reiwa.com

Delivering a dream renovation to the home of WA real estate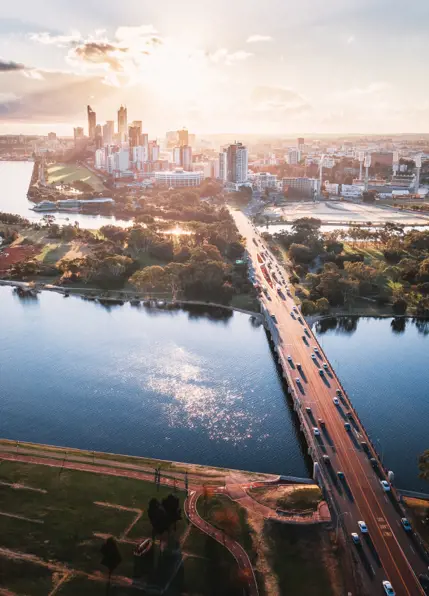 The problem
How to attract and engage Western Australian audiences in a market dominated by national behemoths.
The solution
An enterprise website with a user experience that exceeds the needs of its members and end users.
The outcome
An 11% increase in emails to real estate agents and a 130% increase in new user registrations.
Partnering to put users first
reiwa.com is unique in that it serves both its members, the real estate agents, and end-users of the website, which includes property buyers, and investors. It also operates exclusively in the Western Australian market. Despite being WA's leading property marketplace, its user experience and content management system had become outdated, and the site was losing market share.

To address this, the Real Estate Institute of Western Australia (REIWA) approached equ to develop a new website from the ground up that provides a distinctive and engaging user experience tailored specifically to the unique needs of Western Australian users.

An extensive research phase
Due to the complexity of the project, an extensive research phase was necessary to understand the complete user journey for a wide range of user types.
We used a hybrid research model that focused on in-depth face-to-face interviews to provide qualitative insights. These insights were then verified using quantitative data from targeted audience surveys.
The responses gave us incredible insights into all key audiences, enabling us to comprehensively map out multiple user journeys and develop invaluable tools and features to assist users in purchasing or renting property.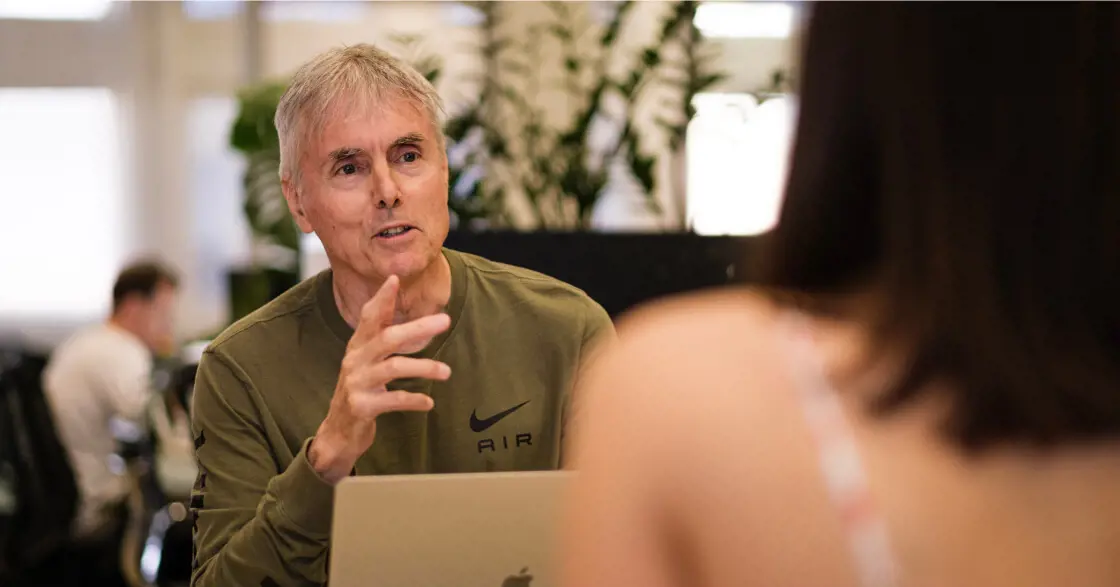 Face-to-face interviews allowed us to delve deeply into common pain points, which we could then validate through surveys with a wider reach

From the research we know how significant data is for many buyers. Informed buyers would use very granular data to assess market activity levels, suburb status and pricing trends.
Overcoming complexity with prototyping
Given the considerable scale and complexity of the site, jumping straight into wireframes wasn't an option. Instead, we used rapid iteration screen flows to determine a global view of the elements, hierarchy and transitions between screens and features. 

The screen flows focused on broad content types, call to actions and content ordering. They also offered the flexibility to iterate and adapt new pages once the site was live.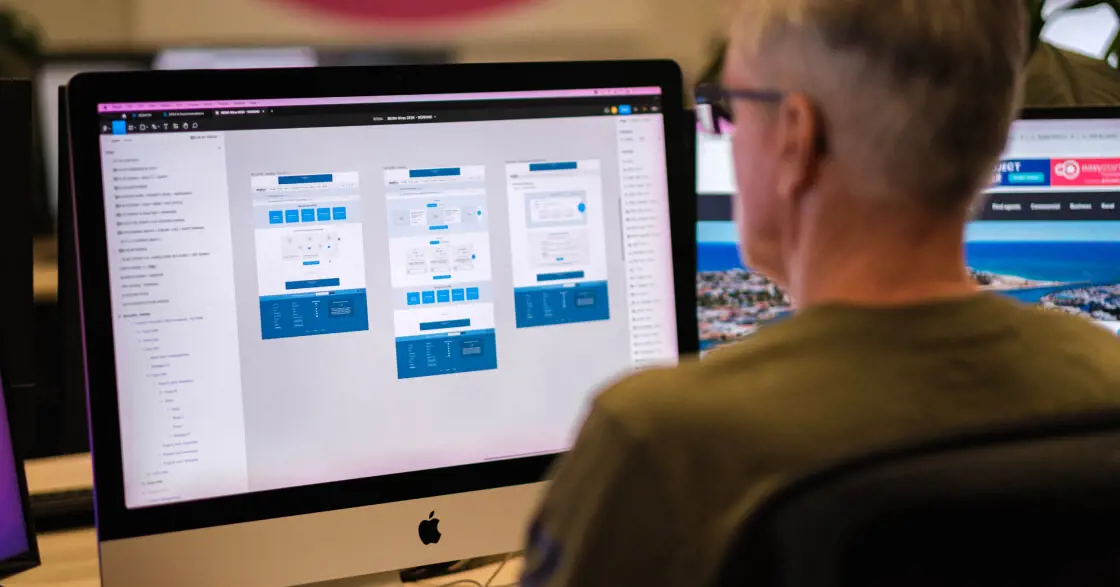 Our next step was developing high-fidelity wireframes, which were prototyped and tested on end users
The difference is in the data. One of REIWA's key competitive advantages is an unrivalled access to WA property data. We utilised WA government data and bespoke advice, calculators and guides to help users make more informed property decisions.
A personalised experience
To elevate reiwa.com above the competition, it was important to enable users to tailor their experience.

To achieve this, we implemented a number of valuable tools which are unlocked when a user creates an account. These tools allowed users to save custom searches, favourite properties, compare homes and even access detailed property reports.

Serious about search
Based on feedback from user research, it was clear the search function was the most critical feature of the website. With that in mind, we spent considerable time creating an industry-leading search function.

Using predictive search technology, the search function allows users to drill down to the suburb, street and even a specific address, offering suggestions as the user types. The search feature also allows users to search for specific house features, such as swimming pools, providing a more powerful and tailored search experience.
Research showed us that the search function shouldn't have any more than 4 initial options to choose from
Just browsing
We also knew that a number of users on the site were there to simply explore. To help users browse suitable homes quickly and easily, we created the option for them to view search results in both a list and map view.

In the map view, users have the freedom to explore and search for additional homes beyond the area they originally targeted. This hybrid view provides the best of both worlds, combining a functional listing and visual map experience.

The power of comparison
When it comes to making informed property decisions, our research revealed intuitive comparison tools were extremely valuable for users. 

We designed and implemented tools that allowed users to easily compare properties, agents, agencies, suburbs, and rentals. The tools empowered users by allowing them to compare detailed behaviour and activity metrics, and were made easily accessible throughout the website. 
Users can quickly and easily compare properties
Considering monetisation. It was important that the website incorporated monetisation opportunities without detracting from the user experience. This included the ability for REIWA members (agents) to create featured listings and premium profiles that provided greater promotional opportunities.
Developing with Sitefinity DXP
Given the site's size, scale, complexity and enterprise nature, Sitefinity DXP was selected as the platform of choice.

Integrating with REIWA's systems and numerous external systems was a project in itself due to the complex business rules and logic required. Over 60 API endpoints were needed to create dynamic site sections for key features like agent profiles, market insight data, listing data and property reports.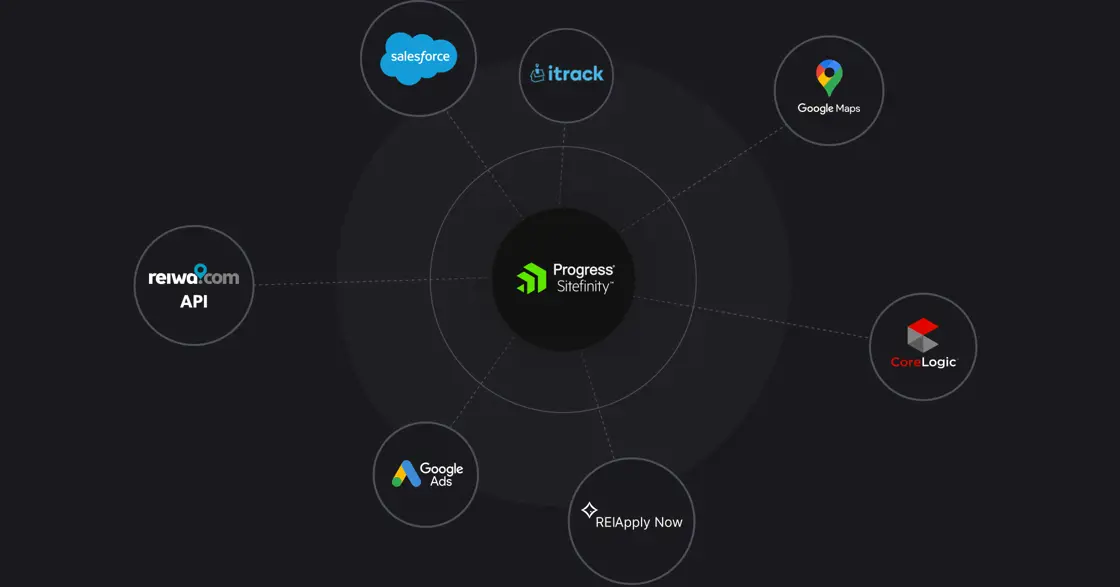 Over 60 API endpoints were needed to integrate with a complex ecosystem
Architecting for performance
The previous website's slow site speed had a negative impact on both the user experience and search performance. It was a crucial factor that needed to be addressed while architecting the new system. The task was made even more challenging due to the website's complexity, which included over 200,000 pages, complex integrations, and high traffic volumes.
To address this issue, our enterprise architects implemented several solutions, including a React Server-side solution. As a result, the new website passed core web vitals and outperformed REIWA's national competition, providing a significantly improved user experience and enhancing the website's overall search performance.

The complexity of the API, high traffic volumes, a rich feature set, and sheer size of the website was a challenge we relished. It was very pleasing to be able to deliver a robust and scalable platform on time and on budget.
A few celebratory cupcakes were delivered on the day of the launch. Thanks REIWA!
Delivering on the primary objective
The results for the new website have been impressive. In the first 3 months since launch, the website has seen a YOY 11% increase in emails to real estate agents in the agent finder, a 24% increase in agent click to calls, and a 130% increase in new user registrations. This demonstrates that the new website is effectively delivering on its primary objective of providing a higher number of prospective homebuyers for REIWA's members: WA real estate agents.
increase in agent finder email enquiries
increase in new user registrations
increase in agent click to calls

equ have a professional and flexible approach, and worked in partnership with REIWA to resolve complex issues. We will continue to engage with equ to leverage their digital expertise and further build our partnership.
View case study