Equilibrium becomes equ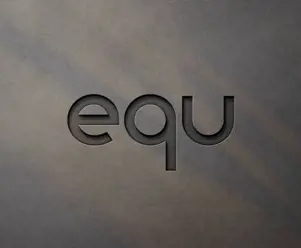 Introducing equ
We are thrilled to announce that Equilibrium is now officially equ (pronounced 'e-queue'), and to unveil our new brand identity and website.
After serving the business well for the past 28 years, the decision to evolve the Equilibrium brand was driven by the objective to ensure market clarity around the business we are today.
The name change was seen as an excellent way of signaling this evolution.
Key Takeaways
The name change is an excellent way of signally our evolution
Pronounced 'e-queue', the name captures the essence of Equilibrium but is more unique and memorable
Our clients and staff have increasingly referred to us as equ in recent years
The essence of what has brought us to this point remains the same
The name, Equilibrium, was linked to our history as an integrated communications agency and, increasingly, the name came to represent our past rather than our future. 
It was important to create a new platform that demonstrated, via the quality and calibre of our work, that equ is in fact home to WA's leading independent digital offering with deep expertise across strategic advisory, product development and growth and performance.
More than a name
The decision to go with 'equ' was relatively easy.
With 2 syllables (e-queue), it captured the essence of Equilibrium, but was more iconic, unique, and memorable. 
We also already owned the online equity in our URL and had in fact been known and referred to as equ by many of our staff and clients, a trend that had grown over the past few years.
equ is derived from the Latin root word meaning equal. As a visual cue to this, we feature an equals sign within selected communications materials. As one of the most recognised mathematical symbols on earth, audiences understand that an equals symbol indicates the location of the answer, and by association, the truth. equ is a place where exceptional = our standard and value = lasting. And, with a focus on collaboration and co-design, equ is ultimately where partnership = success.
Although we're excited to introduce equ to the world, the essence of what has brought us to this point remains the same, it's where our clients know their most important digital projects are in safe and expert hands.  
Explore our new website to learn more about the new equ, and how we create enduring value for our clients.
Subscribe for insights straight to your inbox
You're all set
Keep an eye on your inbox for updates on equ insights.