Digital products: the evolution of experience
Companies must digitise their business strategy to remain competitive by leveraging technology to create new ways to deliver customer outcomes.
Back in 2015, Nigel Fenwick, VP and Principal Analyst of Forrester said, "The future belongs to companies able to harness digital to create new sources of customer value – these companies are destined to become digital predators, swallowing up lesser digital prey." That 'future' is now.
Key Takeaways
To evolve, businesses must explore innovative digital products that change an existing business model
Consider how technology can transform how you deliver customer value
Digital products can unlock new revenue streams for your business
Rapid advancements in technology, together with the impact of a global pandemic, have led to an era of digital business. This digital shift has fundamentally changed the relationship between business and customer, forcing businesses to adapt to survive.
However, for industry leaders, this adaptation hasn't stemmed solely from a straightforward digital strategy; it has arisen from the process of digitising their entire business strategy. To remain competitive, it necessitates a fundamental reengineering of how your business generates value for your customers.
Beyond delivering a better digital experience, success comes from leveraging technology to create new ways to deliver customer outcomes.
What is digital experience?
A digital experience is an interaction between a person and an organization, whether B2B or B2C, that is facilitated by digital technologies. It enhances an existing business model by offering customers, users, and employees innovative and efficient ways to complete tasks.
A digital experience encompasses all digital touchpoints a customer has with an organisation, such as visiting the website, using chatbots, interacting with point of sale systems, and even completing a simple online form or email exchange. It is not limited to a single event, but rather is the cumulative result of all interactions a customer has with the organisation through digital channels.
By creating a seamless and engaging digital experience, businesses can deepen customer loyalty, improve user satisfaction, and enhance employee productivity.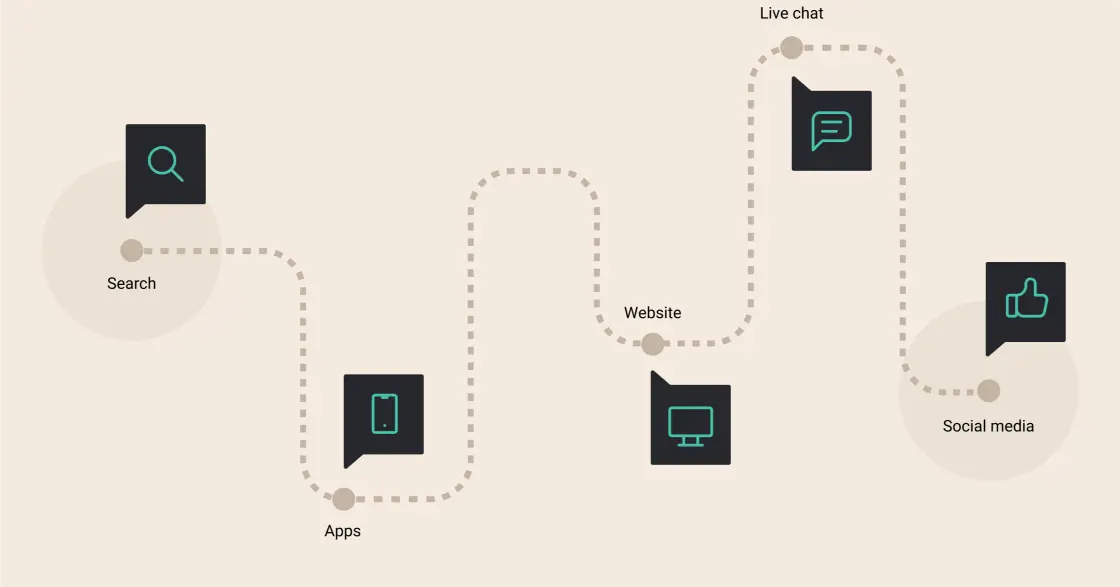 Digital experiences are different from digital products
During this shift, many organisations are investing heavily in improving their digital customer experiences, enhancing their existing business model. Although this increases the value for customers, it's short-lived with new digital experiences quickly overtaking.
Digital Experiences vs Digital Products
In a world of ever-growing expectations, clear, fast and intuitive customer experiences are no longer a goal; they're a given. And, as companies begin to mature digitally, so must their thinking.
As Nigel Fenwick explained in his article, businesses must shift their thinking from "how can we use digital to sell more", to "how can we use technology to reimagine the way we help deliver customer value?"
To do this, businesses must think beyond digital experiences, exploring innovative digital products that change an existing business model or create a new one altogether.
What's the difference?
Digital products and experiences are closely related but differ in certain ways. A digital product is a discrete element of a larger digital experience ecosystem. Often, it offers inherent value that customers are willing to download, favourite or even purchase. 
For example, the Netflix mobile app is a digital product that provides users with the ability to access Netflix's video streaming service on their mobile devices. The app is downloaded as a part of a larger digital experience ecosystem, which includes various other digital products such as the website, smart TV apps, and gaming consoles.
The need to think beyond experiences
We mentioned earlier that companies have invested in improving their digital customer experiences, in essence enhancing their existing business model. Simply having a mobile app is enough for some businesses to claim to be 'digital'. While the app may be driving incremental revenue, it's only adding another digital touchpoint to their existing business model - a model that itself needs to be rethought and reshaped.
Nigel Fenwick describes it perfectly when he says, "Digital transformation goes much further, fundamentally reshaping the way you create value for your customers and drive revenue growth. Achieving this requires that firms approach digital business from the outside in".
Innovative thinking must become organisational. It's about starting to think beyond what's practical, to what's possible. When this shift in thinking occurs, you'll move from designing new digital experiences to designing new digital products.
Re-envision your business
As businesses continue to mature digitally, awareness of digital product opportunities will continue to grow. Successful digital businesses will be those that are courageous enough to envision a broader digital experience ecosystem and implement a product development roadmap to provide customers with what they want, when and how they want it.
If you're seeking ways to implement a digital experience roadmap to fuel the next phase of growth for your business, we can assist you. 
Talk to us about how we can create new ways to deliver customer outcomes.
Subscribe for insights straight to your inbox
You're all set
Keep an eye on your inbox for updates on equ insights.